Employee Satisfaction Surveys
Use EasyQuest for your employee surveys
Data in the EU
GDPR: Data processing agreement available
Anonymous surveys
Get honest feedback with anonymous surveys
Exceptional support
Average response time of 12 minutes
Survey templates
Save time with survey templates
Effortless employee surveys with EasyQuest
With EasyQuest, it's simple to gather feedback from your employees. Conduct the employee survey efficiently using one of our templates as a starting point. Employees fill out an anonymous web-based questionnaire that looks equally good on all types of screens. You gain immediate access to automatically generated reports.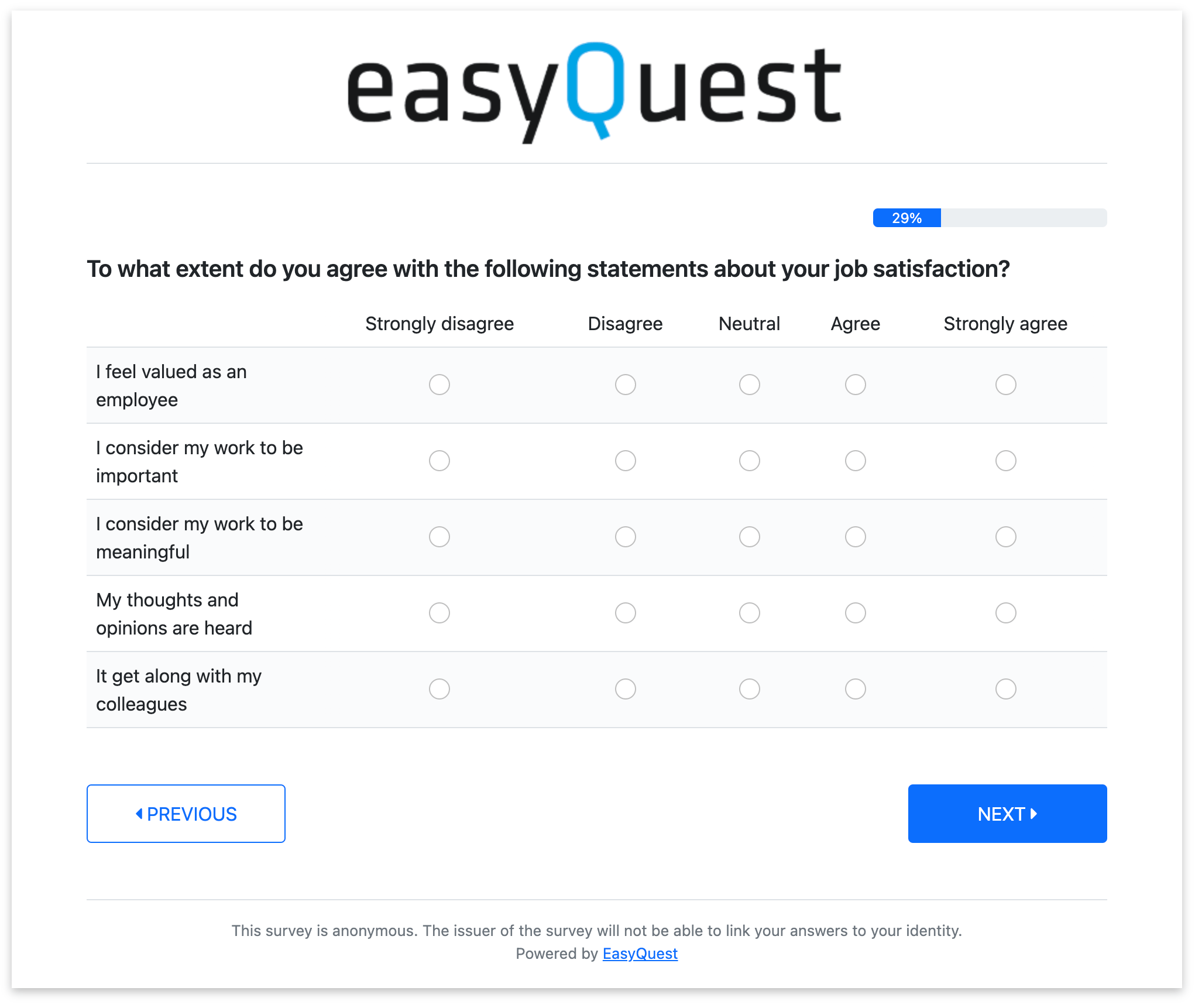 Why use EasyQuest for your Employee Surveys?
With our survey tools and templates, the process of conducting an employee survey becomes simpler and more efficient. Try EasyQuest today and discover how you can improve the work environment and increase employee satisfaction within your organization.
Time-saving
Our templates already contain a selection of relevant questions that cover important aspects of the work environment, making it easy for you to create a survey tailored to your organization's needs.
Easy Distribution
EasyQuest makes it simple to distribute the survey anonymously among your employees, increasing the likelihood of receiving honest and constructive feedback.
Reports and Analysis
Our tool automatically generates statistics and graphical representations of the results, making it easier for you to analyze the findings and identify areas that require improvement.
Ready to get started? Create your Employee Feedback Survey today.
Sign up for a powerful EasyQuest FREE account now. Get unlimited surveys, questions and responses for free.
Why are employee satisfaction surveys important?
An employee satisfaction survey is a good starting point for a better working environment. Only when you know what your employees think about the workplace can you make improvements that have an effect. The working environment affects every employee's well-being and productivity, and in the worst case a poor working environment could lead to sick leave and resignations. With regular employee surveys you can identify negative developments at an early stage and more easily ensure high job satisfaction.

EasyQuest makes it easy to learn more about your employees. Build and share your employment satisfaction survey in minutes.
How to conduct a successful employee survey
Employees should feel comfortable about the reason for the survey. The purpose should be well clarified and communicated before it is carried out. Clearly describe how the survey will be followed up and how the results will be communicated.

Present the findings to employees, perhaps in groups. Discuss measures and opportunities for improvement. Set concrete goals and create an action plan that clearly shows the division of responsibility. It is important to show that problems can be solved and improvements can be made. This has a motivating effect on employees.

Perform the employee satisfaction survey regularly (at least once a year) and evaluate goal fulfilment every time. Findings and opportunities for improvement must be taken seriously, so that employees consider responding to the survey is worthwhile.
Guide to employee satisfaction surveys
Preparation is very important when you create the survey. You must clearly define your goals and how you will use the information you collect. The key to creating a good survey is to keep it short, while still collecting the necessary information. Put effort into formulating good, unambiguous questions. Compare all questions with the goals. Only questions that help achieve the goals of the employee survey should be included in the questionnaire. We recommend using an anonymous, online employee satisfaction survey distributed by email. Why not start with our free template and adapt it to your needs?
Here are some general tips for a successful survey:
– Write a brief introduction and state how long the survey will take
– Make sure the questions are clear and specific
– Are all the questions relevant? Don't make the survey too long
– Avoid leading questions
– Only ask about one thing in each question
– Always double-check the possible responses and correct any spelling mistakes
– Test the survey before you publish it
Some of the most common measurements in an employee or working environment survey include working conditions, job satisfaction, stress, risk awareness and attitude to safety, manager evaluation, company goals and strategy and employee loyalty. A single survey can of course include different forms of measurement.
If you would like more information on how to create better questionnaires, you'll find some good advice in 
this article
.