online surveys
Create online surveys for free with our user-friendly tool
Data in the EU
GDPR: Data processing agreement available
Free account
Get unlimited surveys and responses for free
Exceptional support
Average response time of 12 minutes
Survey templates
Save time with survey templates
Build professional surveys online, no download required
EasyQuest offers a user-friendly and feature-rich service for creating all types of professional web-based surveys. No software download is required. You can start with our free templates, or create your own survey from scratch.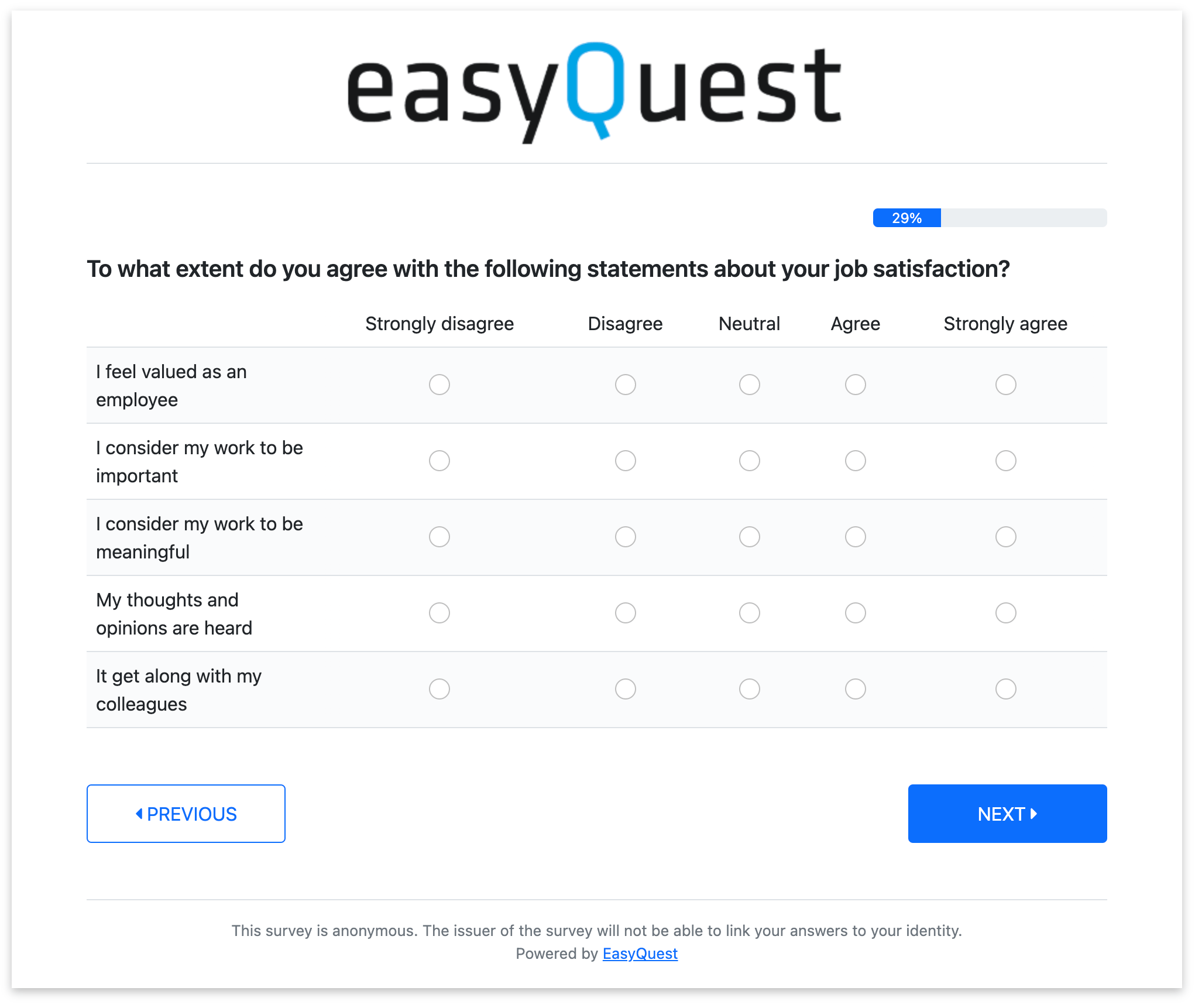 Why use EasyQuest for your online surveys?
With our survey tool and templates, the process of building your surveys becomes easier and more efficient.
Quick & Easy to build
Create any kind of online survey. Select from multiple question types or add images or videos. Save time by using our free customizable survey templates.
Share and get answers
Collect responses via multiple channels. Share your surveys online via the Web, using email, or social media. Our surveys are optimized for all screen sizes.
Reports and Analysis
View your results in real time. Get the insight you need to improve. Create and share professional and beautiful web reports. Export your data for further analysis.
Ready to get started? Create create your own questionnaire today.
Sign up for a powerful EasyQuest FREE account now. Get unlimited surveys, questions and responses for free.
Your own survey online
Use EasyQuest to conduct any kind of online survey, simply and free of charge. Anyone can create a professional-looking survey in minutes with our intuitive and user-friendly interface. No software download is necessary. You can start out with one of our free templates, such as those for customer or employee satisfaction surveys, or design your own questionnaire from scratch.
Why online surveys?
An online survey is a quick and cost-effective way of collecting data. The applications are many, such as customer or employee satisfaction surveys, event registrations and evaluation. Conducting the survey online makes it easy to collect data from many respondents. Send the survey to your contacts by e-mail, or share it on your website or via social media. Another advantage of electronic surveys is the opportunity for routing or branching. This enables you to present respondents with questions that are relevant to them.

Once data has been collected from surveys, it is easily accessible for reports and analysis in the tool of your choice, such as Microsoft Excel or Microsoft PowerBI. The information collected can be used as a basis for improvements and gives you the knowledge you need to make well-founded decisions.
How to create a successful online survey
A successful survey begins with good planning. Make sure you understand what you want to achieve (goals) and what data is relevant to collect in order to achieve those goals. Creating a survey with EasyQuest is easy. We have listed a few points that we think will help you with your questionnaire design:

Be clear and specific. Clear and specific questions are perhaps the most important aspect of a survey. It is vital that the wording is simple and precise. Make sure there is no doubt about what question the respondent is answering. It is also important to include all possible responses, so that the respondent does not feel forced into choosing one that is not quite right. Nor should the questions be too long.

Avoid asking more than one thing at a time. Only ask about one thing in each question. This also avoids the respondent becoming confused and not knowing what to answer. One example of a question you should not include would be "What do you think about the premises and the food service at the conference?" Split this into two questions so as to ensure much better quality in the data you collect.

Avoid leading questions. It can be easy to ask leading questions without meaning to. You should absolutely avoid questions that steer the respondent towards any of the possible responses. Try to keep the tone of the questionnaire balanced. One example of a leading question to be avoided would be "Many people think that…. Do you agree with this statement?".

Clearly structure the questionnaire. The structure of the questionnaire should be clear. A good idea is to start with questions that the respondent can answer easily. The most important questions appear in the main part of the survey, and it is vital that these are formulated clearly and specifically. In the concluding phase of the questionnaire, you can ask demographic questions, such as gender, place of residence and age.

Time taken to answer the survey. Do not make the survey any longer than you have to. Only ask questions that are relevant to achieving the goals of the survey. It is also a big advantage to tell the respondent how long it will take to complete the survey before they start.

Remember to test. It is easy to overlook spelling mistakes or to forget possible responses. So remember to thoroughly test the survey before you distribute it. Ask a colleague or friend for feedback. You can also download the test-responses to Excel, to check that the information is easy to analyse or use for reports.
How to increase the chances of a high response rate
Getting as many people as possible to participate in a survey is important because a higher response rate (and a large number of participants) will ensure greater reliability, so that conclusions can be trusted.

There are a number of things that can be done to ensure the best possible response rate. Some people will be concerned about anonymity in the survey, so as long as this is not a problem, it is to be preferred. Anonymity is of course expected in a survey of the working environment.

It is important not to make the survey too long, because this may cause many people to abandon it without completing it. A reminder can be sent out to those who have not responded to the survey. This will often lead to more responses.

Prizes are frequently offered to increase the number of responses to a survey. Naturally, the prize must be relevant to the group for which you have created the survey.

Choose the best day to send the survey. When you choose to send out your survey can have a big impact on the response count and who ends up responding. The best day (and time) may depend on the target group.